Jarandilla De La Vera
(
Extremadura

)

Discover the serenity, the beauty and the wonders of nature, the atmosphere, the landscapes of La Vera, enjoying walks in the countryside and the local food.
OUR ESTATES
Contact
Only the Best: Jarandilla De La Vera
This Estate, one of the most beautiful properties in Extremadura, is located in the very heart of the Sierra de Gredos amid lakes, mountains, crags and cliffs. In this hideaway, far from the city, we have a magnificent private country house whose buildings carefully integrate local architecture with nature.
[carousel_slide id='391']
LOCATION
Jarandilla de la Vera, Sierra de Gredos. Province of Extremadura. 2 h. from Madrid.
AMENITIES
Swimming pool, garden, various verandas, 3 lounges, a dining room which seats 24 people, a fully-equipped meeting room and a paddle court with night lights. Wi-Fi.
EXPERIENCES
Horse riding, paddle tennis, golf, cultural visits, hiking, birdwatching, clay pigeon shooting, falconry, picnic lunches by the lake, bicycling. Also, the estate is only 4 km. from a river that flows down the mountain with natural pools and areas for swimming.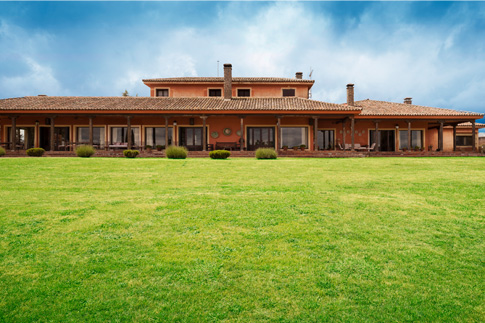 About the Estate
The Estate of Jarandilla de la Vera is one of the most iconic properties in Extremadura. It sits on one of the most beautiful mountain ranges in Spain, right in the Sierra de Gredos, one of the most spectacular natural environments in all of Europe.
At the center of the Estate, surrounded by lakes, rivers and mountains and perfectly integrated within nature, we find the house. A private hideaway where peace and tranquility are in command. The house is set amid oaks and pine trees and it is the perfect place to enjoy nature and the breathtaking panoramic views of the mountains that form the Sierra de Gredos range.
The garden has various porches to relax while contemplating the landscape or reading a book. Diving into the pool makes one feel as though swimming in a lake amid mountains.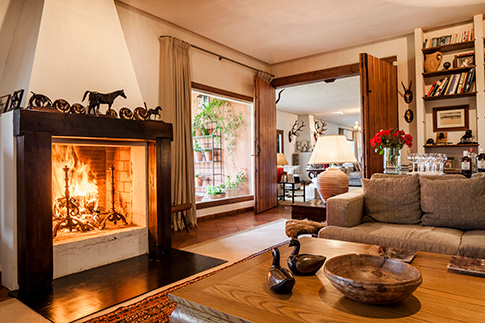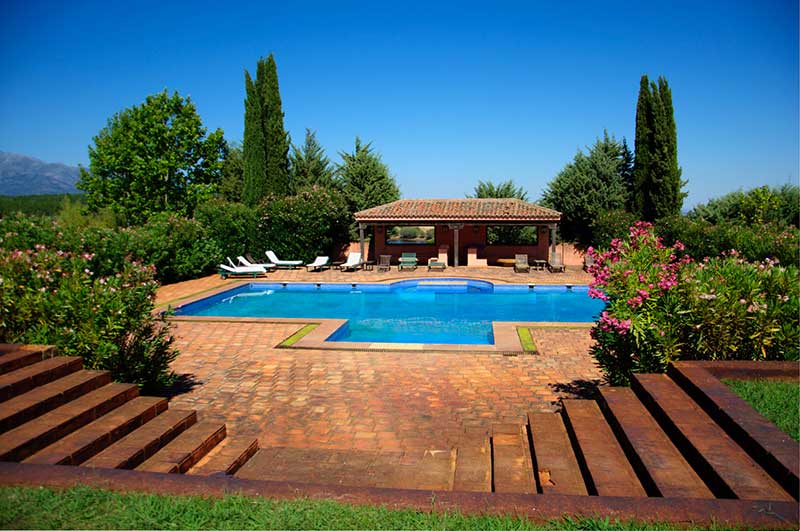 The house offers a selection of comfortable and wide reception rooms and big, inviting, bedrooms conceived as the perfect places to rest.
But, also, and in addition to the environmental value of this natural setting, the Gredos area also offers very interesting historical places as well as art, tradition and gastronomy. Among these special places stands the Roman Road of Puerto del Pico and also the villages of Candeleda and El Barco de Ávila.